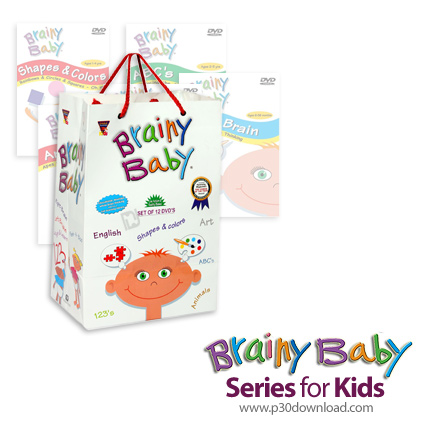 مجموعه آموزش کودک متفکر، آموزش زبان انگلیسی برای کودکان
Brainy Baby مجموعه ای از دی وی دی های آموزش زبان انگلیسی برای کودکان 9 ماهه تا 5 ساله را فراهم نموده است این فیلم های آموزشی توسط گروهی از آموزگاران حرفه ای کودک تهیه شده است و به آموزش مفاهیمی مانند الفبا، اعداد، رنگ ها، حیوانات، اشیاء می پردازد. آموزش های با استفاده از موسیقی، عکس و انیمیشن های جذاب به گونه ای تهیه شده اند که توجه کودک را به خود جلب نموده و تاثیر گذار باشند.

عناوین آموزشی:
- آموزش الفبا
- آموزش اعداد
- آموزش حیوانات
- آموزش اشکال و رنگ ها
- و ...
Brainy Baby Series for Kids
In a promotion to get parents to try the Brainy Baby line of DVDs for children from 9 months to 5 years. The DVDs created by a team of early childhood educators introduce concepts such as the alphabet, numbers, shapes and colors to preschoolers. The free DVDs include "ABCs" "Music" "Laugh & Learn" and "Shapes & Colors" and each is 45 minutes long. So if anyone is interested in these titles, this isn't a bad deal. Limit of one DVD.
More info (open/close)
مشخصات
نام انگلیسی: Brainy Baby Series for Kids
نام فارسی: مجموعه آموزش کودک متفکر، آموزش زبان انگلیسی برای کودکان
شرکت سازنده: Brainy Baby
زبان: English
حجم فایل: 3008 مگابایت
تاریخ انتشار: 11:45 - 1393/12/20 | 2015.03.11
منبع: پی سی دانلود / www.p30download.ir