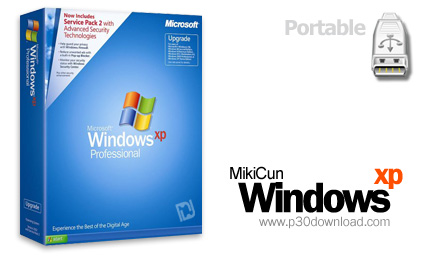 ویندوز ایکس پی پرتابل (بدون نیاز به نصب، اجرا از روی سی دی به صورت زنده)
حتماً تا به حال برای شما این مورد پیش آمده است که ویندوزتان خراب شده باشد و نتوانسته باشید وارد ویندوز شوید و یا به دلیل ویرورسی شدن سیستم، ویندوز شما به قدری کند شده باشد که عملاً قادر به انجام هیچ کاری نبوده باشید. متاسفانه در این گونه مواقع هیچ راهی بهتر از نصب مجدد ویندوز نیست اما مشکل دیگر مدت زمان طولانی نصب و راه اندازی ویندوز است و در مواقع ضروری که شما احتیاج به دسترسی به هارد دیسک خود دارید نصب مجدد ویندوز گزینه ی مناسبی نخواهد بود. در این گونه شرایط اضطراری دیسک های زنده (بی نیاز به نصب) به عنوان یک سیستم عامل موقت می توانند به شما در دسترسی به اطلاعات روی هارد دیسک تان کمک فراوانی کنند.
دیسک های زنده (بی نیاز به نصب) اولین بار برای سیستم عامل لینکوس عرضه شداند و به دلیل انعطاف پذیری بالایی که این سیستم عامل با امکانات سخت افزاری متفاوت دارد. توزیع های متفاوتی از لینوکس به صورت دیسک زنده عرضه شد و مورد استقبال کاربران قرار گرفت. از دیر باز کاربران ویندوز نیز خواهان دیسک زنده ای از ویندوز بوده اند تا بتوانند بدون نیاز به نصب ویندوز، از آن استفاده کنند. شرکت مایکروسافت هنوز هیچ گونه ویندوز زنده ای به بازار عرضه نکرده است ولی بسیاری از برنامه نویسان و علاقه مندان توانسته اند فایل های ویندوز را به گونه ای تغییر بدهند که قادر به اجرا ویندوز تنها از روی سی دی و بدون نیاز به نصب باشد و نسخه های مختلفی از این دیسک های زنده با امکانات مختلفی منتشر شده است.
Windows XP Live CD یک دیسک زنده ویندوز ایکس پی پرتابل (همراه) ای است که به همراه تعداد زیاید برنامه مختلف عرضه شده است.

توجه: پیشنهاد می کنیم اکنون که ویندوزتان مشکلی ندارد و در دسترس است یک نسخه از Windows 7 Live را دانلود و بر روی DVD رایت کنید و آن را در محل مناسبی نگهداری کنید تا در صورتی خرابی ویندوزتان بتوانید از آن برای دسترسی به فایل های مهم کامپیوتر خود استفاده نمایید.
Windows XP Live CD Portable
Windows XP Live!
by Soporific
Version 0.99.1
18th January 2010
CD Version

***************************
** What is this project?
***************************

It is primarily designed to be an emergency disk for your PC. For whatever reason, if something happens to your current OS and it won't boot or something else just as drastic happens and you need to keep working on something, this disk can come to the rescue. There's over 300 apps available that should cover most tasks. If you need to diagnose what went wrong and fix it, this is your disk. Load up XP without affecting your system files and find out what went wrong. Many many many recovery and diagnostic programs have been included.

If someone wants to borrow your machine and you don't want them changing your system configurations - let them use this. If you want to browse the net you can safely with a firewall that only starts if you want it. You can watch music videos and listen to music while working on a document in one of the many productivity apps, and even encode and decode video files.

While it isn't as good as actually having Windows XP installed onto a hard disk, it comes reasonably close.

As soon as i work out how to get this to work from USB drive, i will release v1.0 -- if anyone gets it to work, please let me know! :)
More info (open/close)
سیستم مورد نیاز
نرم افزار Windows XP Live CD Portable
* Any computer that can normally run XP, with at least 512 MB of RAM to have all features available. This may also run on systems with only 384 but it won't be very usable. It defintely won't work on a system with only 256 MB, sorry.
* A CD or DVD drive (the faster the better).

- Recommended Requirements:
* Any computer that can normally run XP with at least 1024 MB of RAM. All features and applications will work.
مشخصات
شرکت سازنده: مایکروسافت / Microsoft
نام انگلیسی: Windows XP Live CD Portable
نام فارسی: ویندوز ایکس پی پرتابل (بدون نیاز به نصب، اجرا از روی سی دی به صورت زنده)
حجم فایل: 533 مگابایت
تاریخ انتشار: 19:14 - 1389/2/20 | 2010.05.10
منبع: پی سی دانلود / www.p30download.ir
امتیاز:

3.5/5