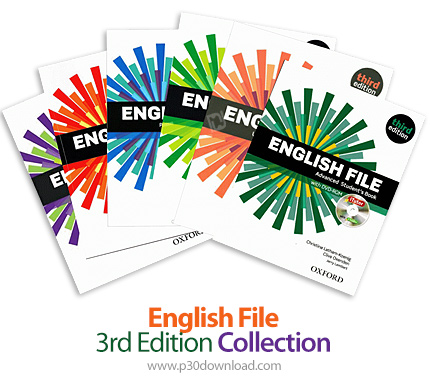 English File 3rd Edition Collection سومین نسخه از کتاب های پرطرفدار آموزش زبان است که دارای 7 سطح آموزشی می باشد. این مجموعه حاوی محتوای دیجیتالی ارزشمندی است که می تواند در داخل کلاس زبان و یا خارج از آن به دانش آموزان کمک کند و می تواند بعنوان بهترین روش برای تقویت مهارت اسپیکینگ و مکالمه استفاده شود.
مجموعه های آموزشی English File دارای کتاب های دانش آموز (Student Book)، کتاب معلم (Teacher's Book) و کتاب های تمرین (Work Book) و تست (Test Book) می باشند که تمام مهارت های رایتینگ (Writing)، ریدینگ (Reading)، اسپیکینگ (Speaking)، لیسنینگ (Listening) و گرامر (Grammar) دانش آموزان را تقویت می کند. این مجموعه دارای فایل های ویدیویی، نرم افزار، کتاب الکترونیکی (PDF) و فایل های صوتی (MP3) می باشد و به گونه ای طراحی شده اند که انگیزه یادگیری را در دانش آموزان تقویت می کنند.

A new edition of the best-selling English File, improved throughout with brand new digital components to use inside and outside the classroom. English File Third edition - the best way to get your students talking.
A blend of completely new lessons, updated texts and activities, together with the refreshing and fine-tuning of some favourite lessons from New English File - English File third edition provides the right mix of language, motivation, and opportunity to get students talking.
More info ( ↓ open / close ↑ )
مشخصات
فرمت کتاب: PDF
حجم فایل: 1071+5001 +10516 +7987+4088+5225 +1637 +1.69 مگابایت
تاریخ انتشار: 19:08 - 1398/5/12 | 2019.08.03
منبع: پی سی دانلود / www.p30download.ir
امتیاز:

5/5